Bacon Wrapped Scallops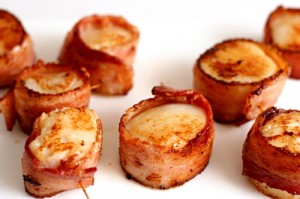 Ingredients
Fresh sea scallops
1 lb. sliced bacon (not to fatty, try smoked if you like)
2 tbsp. olive oil
Lemon juice
Fresh pepper
Toothpicks or skewers
Directions
Mix lemon juice, olive oil & pepper in a bowl. Pour over scallops & marinade for about an hour
Wrap each scallop with a half strip of bacon secured by a toothpick or placed on a skewer.
Place on a pan & broil in the oven until golden brown & bacon is cooked to your liking.
Serve hot & Enjoy!!