Halibut Kabobs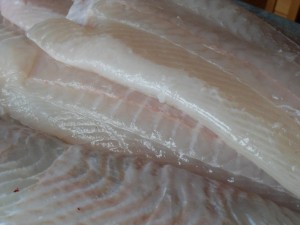 Ingredients
Halibut fillet
Grape tomatoes
Spanish onion
olive oil
Sea salt & fresh pepper
Lemon juice
Skewers
Directions
Cut halibut fillet into cubes.
Mix lemon juice, olive oil, salt & pepper in a bowl. Place halibut cubes in a bowl & cover with olive oil marinade. Refridgerate for 1 hour.
Layer halibut cubes & cubed vegetables on the skewer in what ever fashion you desire.
Place on aluminum foil covered with a light mist of oil. Grill on the BBQ @ a med heat for no longer then 15 min. (halibut can be easily over cooked &  will dry out)
Turn kabobs once during cooking time.
Serve hot & Enjoy!!