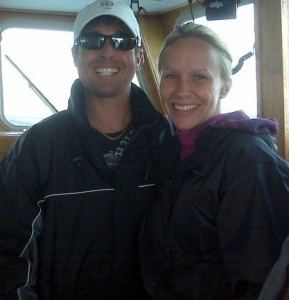 Spears' Fishing & Charter located in St. Andrews, N.B. is a locally owned  family business operated by Captain Jamie  Spear and wife Allisan Spear who operate their boat the Jeremy & Jaden as a year round fishing vessel & passenger boat. Locals to the area, Jamie & Allisan with their boat the Jeremy & Jaden fish lobster, scallops,  halibut and herring.
During the months of  May to October the Spear's sell and supply their fresh in season product to local markets, restaurants and consumers. During the months of August to October Jamie & Allisan operate the Jeremy & Jaden as a passenger boat.  Offering a variety of different activities so that no experience is ever the same.
Whether it be  deep sea fishing, a marine life tour, lobster dinner at sunset,  dive experience, educational fishery experience or a private personalized customized trip the Spears promise an authentic east coast experience of a lifetime. Both certified in Marine Fist Aid  and Marine Emergency Duties, Captain Jamie Spear and  wife Allisan would love the opportunity to take you out and explore all the natural wonders the Bay of Fundy has to offer. With years of sailing and experience on the water, the Spear's hope to make every trip one you will never forget.
The Jeremy & Jaden an authentic working fishing vessel, is a 49′ x 20′ Hubby Hull built in Shelburne, NS. In the winter months the boat is geared up for lobster fishing  scalloping, and halibut fishing.  In the late summer till late fall the Jeremy & Jaden is converted into a passenger boat that is certified by Transport Canada to take up to 26 passengers out on one of the many adventures Spears' Fishing & Charter has to offer.